Oakwood Smiles Dental Plan
Yearly Membership Includes
Resorative Fillings
Crowns & Bridges
Implants & Bone Grafting
Braces & Invisalign
Sleep Apnea Devices
Night Guards
Cosmetic Dentistry
Dentures
Root Canals
Extractions
2 Routine Cleanings*
Membership Fees must be paid at the time of service. Valid for one year from the date of enrollment.
Yearly Membership Includes:
2 Routine Exams
2 Routine Cleanings*
2 Flouride treatments (children under age 18)
1 Set of Bitewings +3 additional X-Rays
1 Emergency (Limited) Exam & X-Ray
20% discount on all other services
Panoramic 3D X-Ray every 3 years($159 value)


ROUTINE CLEANINGS* are defind as prophylaxis only, not advanced hygiene servies such as scaling and root planning, perio maintenances, or full mouth debridement.

20% Discount not applied to products such as whitening, BOTOX®, JUVÉDERM®, ect.
Low Annual Fee:
First Family Member $395
Second Family Member $395
Each Additional Member $250
Note: All family members must live in the same household. Children must be under 25 years old.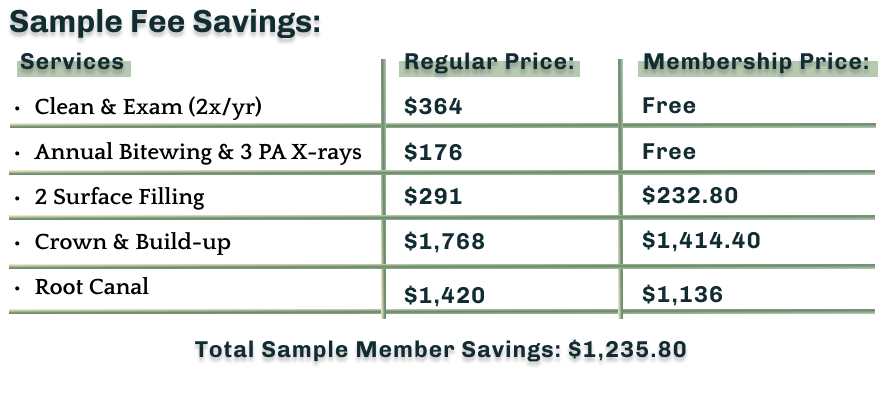 Note: Prices are estimated and subject to change.
OUR GOAL
The treatment you need at prices you can afford! Our goal is to help make your dental visits more affordable so you can get the quality dental care you deserve. Our Oakwood Smiles Dental Plan is a reduced fee dental plan that allows individuals or families to receive discounted dental services at Oakwood Dental.
DISCLAIMER
This is not an insurance program, and Oakwood Dental is not a licensed insurer, health maintenance organization, or other underwriter of health services. This plan may not be combined with any other offers, discounts, advertisements, or insurance plans. The discounts offered are valid at Oakwood Dental and are for services, not products.